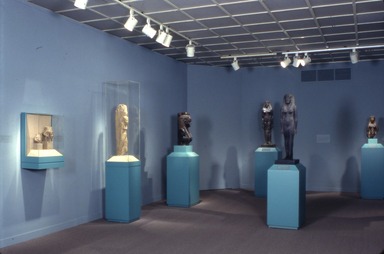 Cleopatra's Egypt: Age of the Ptolemies
Print
Press Releases
Press Coverage of this Exhibition
SEASON PREVIEW; Lessons in perspective, partly in Italian

September 11, 1988 By MICHAEL BRENSON; Michael Brenson is an art critic for The New York Times.

"LEAD: The 1988-89 art season has a rare urgency. There are shows that we need to see, on contemporary artists we can't stop talking about. And there are shows that provide a historical perspective in an unusually provocative way, by charting one of the most irresistible of all national artistic traditions. The 1988-89 art season has a rare urgency...."

Museum Show In Brooklyn Explores Age Of Cleopatra

October 7, 1988 By MICHAEL KIMMELMAN

"LEAD: BEGINNING shortly after a bloodless takeover by Alexander the Great and ending with the suicides of Marc Antony and Cleopatra almost three centuries later, the Ptolemaic period constituted the final flowering of ancient Egyptian civilization. Along the Nile, Hellenism prospered beside an indigenous culture whose traditions stretched back more..."

ART VIEW; From Brooklyn, A New Spin on Egypt

October 16, 1988 By John Russell

"LEAD: With ''Cleopatra's Egypt,'' a pioneering survey of the art of Ptolemaic Egypt, the Brooklyn Museum has broken new ground of a kind that has a consistent fascination. The title helps, of course. ''The Egypt of the Ptolemies'' would not be a grabber, but Cleopatra is one of the most charismatic women in history. With ''Cleopatra's Egypt,'' a..."