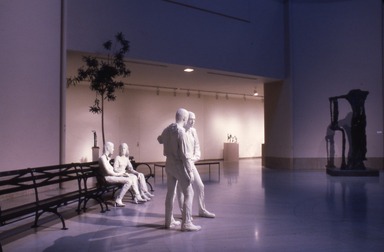 Six in Bronze
Print
Press Releases
Date unknown, 1984: Six in Bronze an exhibition of bronze sculptures by six leading artists who all established their reputations with work in other media will open at The Brooklyn Museum on October 26 and be on view through January 6, 1985. The six artists contributing works to the exhibition are Nancy Graves, Sandro Chia, Isaac Witkin, Anthony Caro, Bryan Hunt and George Segal. This exhibition, organized by the Williams College Museum of Art, will be presented at The Brooklyn Museum in an expanded version. Each artist will be represented by additional works further illustrating the revitalization of bronze sculpture.

Six in Bronze exemplifies the current diversity and vitality of the medium. The six artists represented have combined their personal vocabulary with new technical advances in bronze casting to push the medium from an antiquated state into the avant-garde mainstream. The importance of this exhibition is in its documentation of the current bronze revival. Grouping artists who pursue such a range of aesthetic goals reveals the creative potential of bronze and reaffirms the individuality of the artists.

Nancy Graves creates new patinas that embody nature's most spectacular colors. Graves' 3-dimensional collages are made from direct-cast objects like paper fans, tiny fish, twigs, exotic flowers and fruits: paintings drawn in space with unparalleled freedom. In sharp contrast, Sandro Chia's large heavy figures attest to the long tradition of the Italian "will to form" firmly defined volumes resulting in towering sculptural masterpieces. Chia's work can be described as neo-expressionist or baroque, but above all it constitutes a tribute to the timeless theme of the human figure. Isaac Witkin's painterly abstractions are not all that abstract: they are frequently derived from organic shapes. Witkin's work conveys the desire to be simultaneously descriptive and evocative. Witkin studied with Anthony Caro, also in the exhibition. From large-size steel structures, Caro began experimenting in the mid-70s with small-size bronze objects. As his mastery of the new material grew, his bronzes grew as well, leading him to try direct casting of found objects, and multiples of certain elements. Bryan Hunt creates some of the most monumental pieces in bronze cast today. His frame of reference is primarily nature abstracted into formal symbols. Recently, the human figure, simplified into basic abstract linear shapes, has been Hunt's main concern. George Segal is the most descriptive of these artists. His psychological approach, sincerity, and sensitivity make him the humanist of the present group.

Six in Bronze, curated by Phyllis Tuchman, is supported in part by a grant from the National Endowment for the Arts, a federal agency.

Brooklyn Museum Archives. Records of the Department of Public Information. Press releases, 1971 - 1988. 1984, 025-26. View Original 1 . View Original 2

Date unknown, 1984: On Sunday, November 18 at 2:00 p.m. Nancy Graves, Bryan Hunt, George Segal and Isaac Witkin will discuss "Bronze in the Avant-Garde Mainstream," with Robert T. Buck, Director of The Brooklyn Museum. This Artists Forum occurs on the occasion of the exhibition Six in Bronze. The forum provides a unique opportunity to hear these four artists explore their involvement as leading figures in the recent revival of bronze casting. Six in Bronze, which also includes work by Anthony Caro and Sandro Chia, was curated by Phyllis Tuchman for the Williams College Museum of Art with support from the National Endowment for the Arts.

The Artists Forum will take place in the Museum's Third Floor Lecture Hall, and is free with Museum Admission.

Brooklyn Museum Archives. Records of the Department of Public Information. Press releases, 1971 - 1988. 1984, 027. View Original
Press Coverage of this Exhibition
UTOPIA IN THE OUTER BOROUGHS

November 4, 1984 By Paul Goldberger

"Paul Goldberger is the Pulitzer Prize- winning architecture critic of The New York Times. New Yorkers sometimes say that Middle America begins at the East River, that once you get outside Manhattan the rest of New York starts to look, if not quite like other places, a lot more ordinary, a lot more mun dane, a lot more like Trenton or Hartford or..."

(New York Times Fee Required)

ART VIEW; A LIVELY RENAISSANCE FOR SCULPTURE IN BRONZE

November 4, 1984 By Michael Brenson

"As with just about everything else that was exiled from the defiant and resolute late modernist years, bronze is back. The material that gave us the Charioteer of Delphi, the doors of Hildesheim Cathedral, Ghiberti's doors to the Baptistery of Florence, Donatello's ''David'' and Rodin's ''Balzac'' was certainly not going to melt away just because..."

(New York Times Fee Required)

GOING OUT GUIDE;

November 17, 1984 By Richard F. Shepard

"ON THE WING It is not every living artist who has a large gallery build a permanent wing to display his work. But then, Al Hirschfeld has become, in the course of 60 years as a caricaturist of notables and others in the theater, a fixture in the entertainment life of New York. Today, the Margo Feiden Galleries opens a new wing that houses more than..."