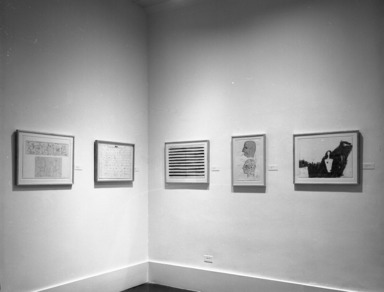 Gene Davis: Thirty Years of Drawing
Print
Press Releases
Winter 1982: Gene Davis: Thirty Years of Drawing, the first retrospective exhibition of the drawings of the famous color interval painter, opened at The Brooklyn Museum on December 4, 1982 and will run through February 6, 1983.

Gene Davis' paintings are among the most instantly recognizable in contemporary American art. One cannot think of Davis without thinking of stripes. He is one of this country's greatest colorists, with a palette ranging from the most subtle to the most brilliant tones. For over twenty years his paintings have been an exploration of color relationships, but he has other areas of artistic concern, unknown to the public.

This will be the first retrospective exhibition of Davis's drawings, a microcosm of his career. It presents a unique opportunity to observe the artist's development, from the earliest figurative pencil drawings of 1952 through collages and crayon and pencil drawings of 1982. Throughout these thirty years, Davis worked out his ideas in a variety of drawing techniques, both in black and white and in color. A selection of drawings from the artist's notebook of 1965 will provide a particularly intimate glimpse into conception and growth of these ideas as sketches and notations. The exhibition will also contain fully realized drawings and collages. For those who know Davis only through his paintings, this exhibition will prove a revelation. Besides showing a very deliberate artist in the development of his painting vocabulary, "Thirty Years of Drawings" will show a whole new aspect of Davis as a draftsman. It is a private side of the artist which he has never previously displayed publicly.

Brooklyn Museum Archives. Records of the Department of Public Information. Press releases, 1971 - 1988. 1982, 013. View Original
Press Coverage of this Exhibition
GENE BARO, 58, ORGANIZER OF ART EXHIBITIONS

November 16, 1982 By JOHN RUSSELL

"Gene Baro, internationally known as an organizer of art exhibitions, curator of this year's Carnegie International Exhibition in Pittsburgh, consulting curator of prints and drawings at the Brooklyn Museum and adjunct curator of contemporary art at the Carnegie Institute in Pittsburgh, died of cancer yesterday at his home in Old Bennington, Vt. He..."

(New York Times Fee Required)

ART: MEGA TO MINI IN 2 SHOWS

December 24, 1982 By GRACE GLUECK

"AMONG the many outdoor sights to see around Manhattan this holiday season works of art loom large. Two recent - and temporary - additions to the scene, by the well-known English-born sculptor William Tucker, and Stewart Wilson, a young North Carolinian-turned-New Yorker, are in midtown, and well worth including on a Christmas constitutional...."