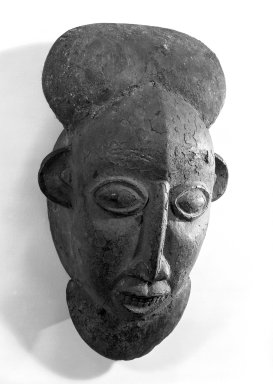 Mask
Cameroonian masks usually carry gender associations. This is a male mask, identified by its headdress and beard. Frequently worn in ensemble performances, such masks can be seen at funeral celebrations of elders and other prominent people, as well as at annual festivals demonstrating loyalty to the fon, or king.
Catalogue Description:
Wooden mask of human face with crescent-shaped beard. The mouth is open and teeth are clenched. Ears protrude on either side of face. A crescent shaped crown appears on top of head. Eyes are almond shaped and outlined. CONDITION: Lower left corner of beard void, with some flaking of patina.
---