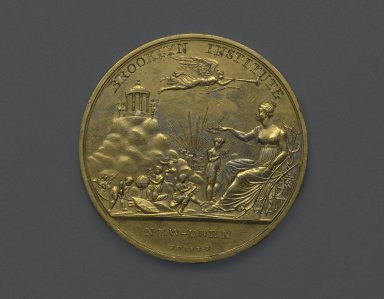 Brooklyn Institute Medal
Catalogue Description:
Circular medal. Obverse: scene with seated, classicized allegorical female figure at right, crowning young boy holding book with wreath; other youths engaged in scholarly pursuits in landscape; round temple atop steep mountain at left; allegorical figure of Fame blowing trumpet flying in sky; text at top, "BROOKLYN INSTITUTE" (engraved) and at bottom, "NEW-YORK" (struck). Reverse: branches of oak and other plant encircle blank space with inscription, text struck at top, "KNOWLEDGE IS POWER"
---