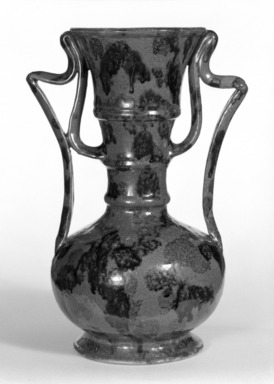 Vase
Ceramics was perhaps the most widespread expression of the Arts and Crafts movement. The unique handcrafted vessels by George Ohr certainly are among the most idiosyncratic. Ohr threw the clay, which he hauled himself from local riverbeds, into thin-walled vessels. He then used his hands to squeeze, fold, and twist the walls to create abstracted sculptural forms. Ohr's deconstructed vessels integrated ornament and form. Stylistically, however, his vessels may seem at odds with the Arts and Crafts commitment to plain forms that were "honest" to their purpose.
Catalogue Description:
Double-handled, red and black glaze with orange on interior. Flat circular base, lower spherical body, and slender neck, flaring to horn shape top. Three rings around neck. Symmetrical, irregular strap handles, each beginning at middle of neck, then curving upward and attached at rim, then doubling back on itself and terminating on shoulder of lower spherical body. Condition: Excellent. Slight firing separation in right handle.
---