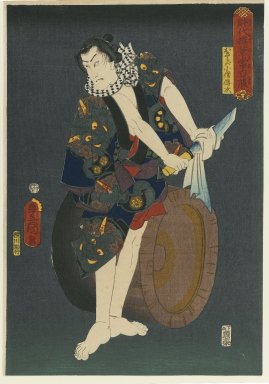 The Actor Kawarazaki Gonjuro I (1838-1903) as Osarabakuzo Denji, from the series "Thieves in Designs of the Time"
Artist: Utagawa Toyokuni III (Kunisada)
Medium: Woodblock print
Geographical Location: Japan
Dates: 1859
Period: Edo period
Dimensions: 14 5/8 x 10 1/16 in. (37.1 x 25.6 cm)
Markings: Censor seal. Engraver's seal. Publisher's seal.
Signature: Artist's signature: Toyokuni ga (red cartouche, left)
Collection: Asian Art
Museum Location: Brooklyn Museum, BMA, 2N12, A611
Accession Number: 76.151.27
Catalogue Description:
Page from the series entitled "Jidai Mo Iu Ataru Shiranami" in Japanese series ("Notorious Thieves of the Day"). Thief, Kasafube Koso fuji (?), shown standing in front of a large section of a tree trunk holding a large knife in his right hand and wiping it off with a white cloth in his left. The figure is dressed in a short dark blue coat decorated with a repeated design of the heads of horned "oni". Blue-green background. Some mica and gauffrage. Condition: Good. Needed to be rematted, but was rematted on 6/1/79.
---