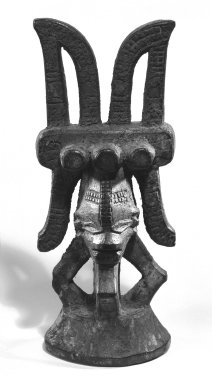 Figure (Ikenga)
This personal shrine reflects the great value the Igbo place on individual achievement. Personal shrines are created in the form of figures known as ikenga to honor the power and skills of a person's right hand, as the right hand holds the hoe, the sword, and the tools of craftsmanship. The basic form of an ikenga is a human figure with horns symbolizing power, sometimes reduced to only a head with horns on a base.
Catalogue Description:
Small, dark wooden ikenga (sculpture for the hand) with sacrificial patina. At the bottom is the stool-like element composed for four angular flexed legs. In the middle is a head with a chip carved cross shape in the center of the forehead, and another cross shape on the back. facial features are indicated. Surmounting the head are two looped horns with chio carved decoration and which are void in the center. At the base of the horns is a band with three projecting knobs on front and back. Below the band a flared appendage, continuing the line of the horns, extends down on either side of the head. CONDITION: Very good. Some evidence of wear throughout; very small areas of patina missing from flexed legs.
---