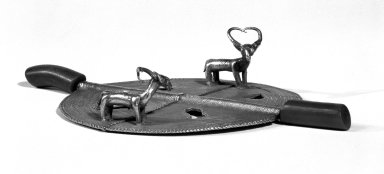 Ornament or Pendant with Antelope
In Ghana and the Ivory Coast, regions that acquired great wealth from the mining and trading of gold, rulers displayed their status by wearing a profusion of gold ornaments, even attaching such objects to umbrellas and swords. Although many of these ornaments are abstract geometric shapes, some represent human faces or animals. Such works were made using the lost-wax casting method, in which a clay mold was made around a modeled wax form. The mold was then heated and the wax poured out, after which molten gold was poured in and solidified in the form of the original wax model.
Catalogue Description:
Gold disk, cast by the lost wax process, with extremely fine concentric lines on top and bottom surfaces. The disk is divided into four quarters by one fairly wide hollow rib and one thin double notched line. The top surface is decorated near the outer edge with two horned quadrupeds in high relief that stand one on either side of the hollow rib. The animals are probably antelopes. In addition, on one side of the rib are two triangular shaped openings; on the other side are two peanut shaped openings. The animals are about 1 1/8 in. high. The outer rim of the disk is formed by a braided design. Two coral beads accompany the ornament and when strung fit at either end of the hollow rib. Condition: Very good. The disk is not absolutely level and there are casting indentations. Evidence of wear on both ends of hollow tube. One horn of one of the animals is missing. Received with lender's metal coated suspension thread.
---