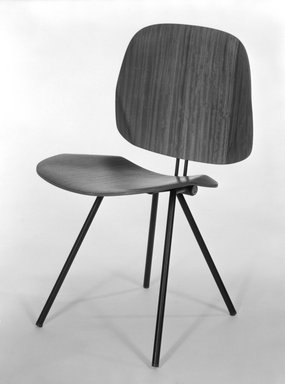 Folding Chair (Model S88)
Today when we think of where inventive contemporary design is manufactured, we often think of Italy. This, however, was not always the case. Wide acceptance of modern design came somewhat later in Italy than elsewhere, perhaps because of the ever-present conservative influence of the palpable Roman classical past and the slow development of the Italian economy in the twentieth century. To be sure, before World War II there were important modern designers in Italy, foremost Gio Ponti, an architect from Milan whose influence spread beyond his native country through two architecture and design magazines he founded, Domus and Stile. And the Fascist regime of Mussolini in the pre-World War II period did embrace modern architecture, unlike the Nazi regime in Germany, which consciously rejected modernism as a source of foreign, moral corruption. It was not, however, until the post-World War II era, when the Italian economy expanded rapidly, that Italian modern design achieved international recognition.
One pivotal event made consumers in the United States aware of the diversity and accomplishments of modern Italian design—the exhibition Italy at Work, which travelled to twelve venues between 1950 and 1954. The exhibition was initiated by the Art Institute of Chicago in partnership with two organizations devoted to the promulgation of Italian design, Handicraft Development Incorporated in the United States and its corresponding institution in Italy, CADMA. Italy at Work included hundreds of objects by more than 150 artisans and manufacturers and featured furniture, ceramics, glass, textiles, metalwork, jewelry, shoes, knit clothing, and industrial design. The exhibition opened at the Brooklyn Museum, and at its conclusion, when the objects were dispersed among the host institutions, the lion's share, more than two hundred items, came to the Museum.
In the second half of the twentieth century, Italy became a center for modern design. Many foreigners went there to study and work at small, adventurous firms that produced high-quality objects.
Catalogue Description:
Side chair, plywood and tubular steel. Teak molded plywood back and seat of formed, rounded rectangular shape on black, welded steel frame. Pairs of "V" formed legs, welded to center tubular cross piece are set under and towards rear of cantilevered seat. Two slender parallel steel rods rise from cross piece at center of back to hold chair back in place. Folding chair, Model S88. Condition - Wear marks around edges of seat and back. White paint and/or scratch marks along right rear of seat, and one spot on right edge of back. Along some of the wood seams and along a few minor scratches, areas of a wood tone stain, now turning reddish. On back of seat back a rectangle, about 4"x 6" distinctly darker than rest of app. (perhaps a marking former label?). Minor wear marks on legs.
---