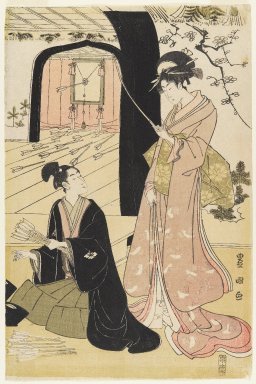 Young Samurai and Female Attendants Practicing Archery, Half of a Diptych
Catalogue Description:
Right sheet from a diptych. Within the confines of a green house, a young man (at right) and a group of courtesans amuse themselves at an archery range. The young man is no less than the famous actor Matsumoto Koshiro IV. Publisher: Senichi, Izumiya Ichibei (seal) Condition: good (each impression), color and state. Unmatted.
---