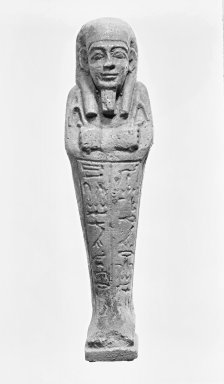 Ushabti of Nesi-Kedwet
Catalogue Description:
Faience ushabti of the Superintendent of the Double Treasury, Nesi-Kedwet. Mummiform, with tools. Undetailed wig cover and beard. Two columns of inscription on lower body. Stand on base with plinth. Condition: Glaze on back of figure fairly well preserved. Brown discoloration on front. Traces of black on feet. Intact.
---