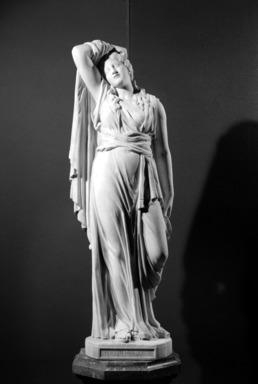 Mary Magdalene
Richard Greenough, the younger brother and pupil of the Neoclassical sculptor Horatio Greenough, belongs to the second generation of American expatriate artists who lived and worked in Italy. Like Thomas Ball, Emma Stebbins, and Margaret Foley, whose biblical figures are displayed nearby, Greenough drew on the Old and New Testaments in seeking subjects for his work in marble. Mary Magdalene was a follower of Christ who witnessed the Crucifixion. Greenough broke with the visual restraint of Neoclassicism to introduce an emotional element, expressed not only in facial expression and gesture, but also in the dynamic surface rhythms and bold play of light and shadow in the folds of drapery.
Catalogue Description:
Life-sized sculpture of woman in contrapposto pose; head tilted back in expression of grief (eyes closed and lips parted), tendrils of long hair fall over shoulders; holds proper right arm over head; proper left arm rests at side with crown of thorns in hand; figure in classical dress with robe wrapped around waist and draped over right arm down back; stands on flat ovoid base with straight front edge. Condition: Good.
---