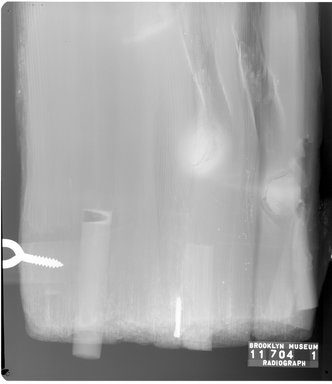 Totem Pole for the "House which is a Trail"
Catalogue Description:
Cedar wood, unpainted. Rear, hollow concavity. Original pole cut in half. Top half (a): Design - plain, tapering cylinder at top, two main figures and part of a third. Upper figure - raven with two subsidiary motifs (crescent across chest and upper wings, a small head and hands peering over the crescent). Raven beak, separate piece of wood. Lower figure - top half of a humanoid with large head above upturned flukes which are grasped in its hands. Fragment of third figure - upturned flukes (whale-like, cut off at tail). Bottom half (b): Design - upside-down humanoid, large animal (bear?) holding a small creature (frog?) to its mouth. CONDITION: Pole cut in two, evidently before arrival at the Museum.
---