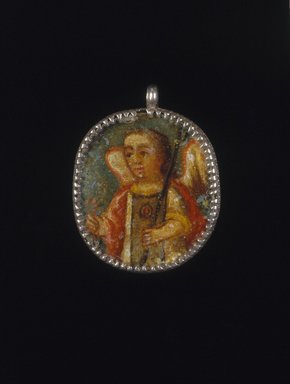 Painted Medallion in Locket Frame, Recto: Angel, Verso: Saint Barbara with Attributes of a Castle Toiwer and Martyr's Palm Frond
Catalogue Description:
Double-sided painted oval medallion, paint on tin (?), sandwiched between two pieces of glass, framed in silver. Glass held in place by teeth on frame. Hanging loop at top of frame. On one side is depicted an angel, red, yellow, and flesh tones on green background. Angel is depicted from waist up, with wings visible. In proper right hand, angel holds a scapular, and in proper left, a long rod or staff. On the chest figure wears an oval ornament. This may be St. Michael the Archangel. On the opposite face is a bust-length figure of St. Barbara, who holds a martyr's palm frond in the proper left hand, and in the proper right a round tower with battlements, and arched doorway, and square window.
---