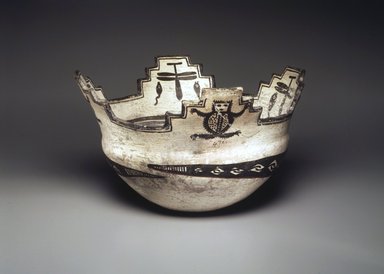 Prayer Meal Bowl with Animal Motifs
Catalogue Description:
This is a cream colored bowl with stepped rim outlined in two black lines. Exterior design is black avanu with a heart line that curls around the shoulder and one black horned toad inset within each exterior step. Interior of each step has inset a dragonfly and two tadpoles. Interior has a very worn, red horned-toad. Paint is flaked and abraded especially on interior. Condition: There is some black discoloration from firing, and a large crack in one stepped projection which was repaired.
---