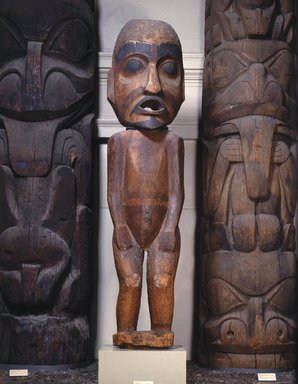 Speaker Figure
A Kwakwaka'wakw woman named Quolstitsas sold this figure to Dr. Charles Newcombe, who then sold it to Brooklyn Museum curator Stewart Culin in 1905. According to Culin's diary, the figure represents a speaker at a potlatch, a celebration feast at which the host distributed lavish gifts requiring reciprocation. An orator standing behind the figure would have spoken through its mouth, announcing the names of arriving guests. The lack of weathering on this figure suggests that it was used inside a house.
Catalogue Description:
The sculpture is an oversized standing wood figure called a speaker figure that would have been placed outside a house where, through its hollow mouth, the chief's orator would make announcements for the community. The figure stands with its arms attached to its body and arms and legs bent. The head is oversized in proportion to the body and the neck is short. Wide bands of black eyebrows overhang large almond-shaped eyes. Nose is long and triangular; mouth is large and open. On the chin is a carved and painted goatee. Condition of object is fair. Surface wear overall with spongy wooden areas throughout. Second photograph is the figure in situ in the village in Smith Inlet.
---