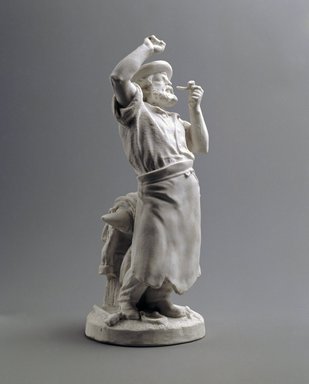 Statuette of Blacksmith
Catalogue Description:
Unglazed white porcelain figure of a naturalistically rendered blacksmith. Bearded man, standing, raises a pipe to his mouth with proper left hand and has proper right hand raised over head (hole through right hand, perhaps held a tool or something for lighting pipe); he wears hat, short-sleeved shirt, and an apron tied around his waist; he leans against a block supporting an anvil over which is his smock or coat; standing on a disk base with hammer, horseshoe, and pinchers at his feet. Condition: Fair; hairline cracks throughout, dirt in crevasses, and chips in brim of hat, bottom of apron, and around base.
---