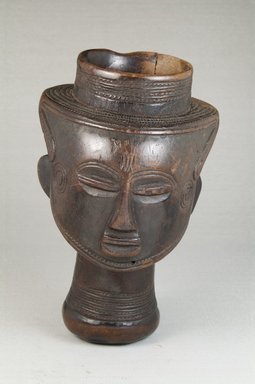 Single Head Goblet (Mbwoongntey)
Catalogue Description:
Goblet with cup area in the form of a head. Top of head is flat; back of head is cantilevered above a straight neck. At temples there are incised concentric circles. Facial features are stylized. Raised lip of cup as well as base of pedestal have fine cross hatched decoration. Condition is fair. Extensive restoration on back of cup. One ear probably reattached. Hole under chin. Overall brown glossy patina.
---