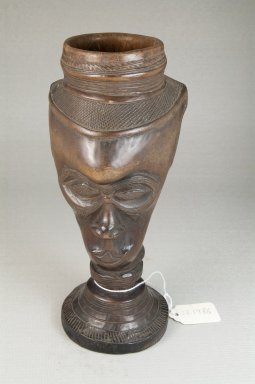 Single Head Goblet (Mbwoongntey)
Catalogue Description:
Carved wooden goblet single head, dark hard wood, incised design. Elongated head with scarification marks on cheeks, ears set far back. On circular base. Sparkling substance covers the surface. CONDITION: Small chip on top of cup; otherwise good. Repairs along right jawline and upward. Insect damage on interior. Small repairs at base of lip. Glossy patina.
---