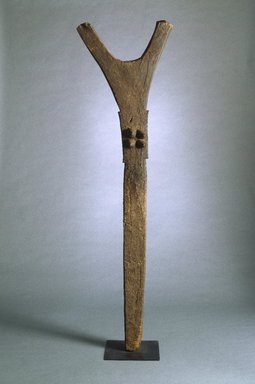 Togu Na Post
The togu na shelter is not only a venue for men to discuss the affairs of the village, but is also seen as a place where the spirits of the deceased interact with the living for the well-being and protection of the village. The representation of breasts on these posts is a reminder of the nurturing role that women play in the community, as well as a reference to human fertility.
Catalogue Description:
Tall, narrow, rectangularly shaped length of wood, forked at upper end. Four protruding breasts, in two groups of 2, carved 57" from bottom of post. Group of breasts: 5" high, 5" wide, 2 3/4 " deep. Forked portion approx. 13" long. CONDITION: Surface dirt and cracking throughout. Prominent crack beneath one side of breasts. Wood blackened on upper portion (45" from bottom and up). Worn and pitted at upper part of lighter portion (34" - 35" from bottom).
---