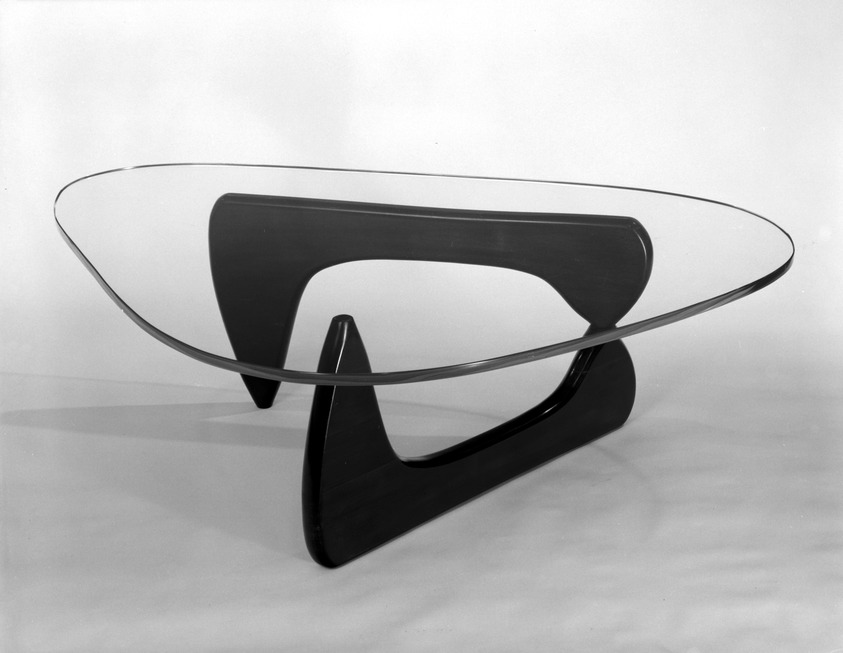 Lounge Table
Although perhaps best known as a sculptor, Isamu Noguchi was also a prolific designer of furniture and lighting. The table exhibited here has become an icon of American mid-twentieth-century biomorphic design, characterized by rounded forms that evoke the natural world rather than by the hard edges of much modern design. Composed of only two mirror-image pieces of ebonized wood that swivel on a metal dowel and an elegantly shaped elliptical glass top, the table is a minimal creation whose design has proven so enduring that it is now back in production after being discontinued in 1973.
Catalogue Description:
Three-piece, three legged lounge table with an oiled walnut base and rounded-triangular, uncolored, polished plate glass top. Base is composed of two identical parts (a & b), each "L-shaped" with pointed ends and rounded corners. When assembled, the "L's" are joined at their tops and form an angle. One "L" rests on the floor on its long side, the short side extending up to support the tabletop (c). The other "L" is reversed, the long side supports the tabletop, and the short side forms a leg. The juncture of the two "L's" forms the third leg. A cylindrical solid metal pin of about 3 7/8 inches forms the juncture of the base along one "L" and fits into a hole in the second "L." The glass tabletop is about ¾ inch thick. Object is sub-lettered as follows: (a) base part with pin; (b) base part with hole; (c) glass top.
---