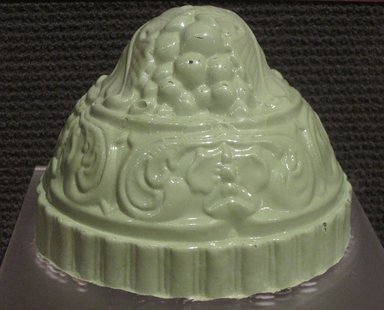 Mold
This extraordinary object is an utilitarian mold used by cooks in the nineteenth century to make elaborately shaped foods that would appeal to the eye. In a nineteenth-century kitchen, such molds may have been lined up and displayed as tools of the trade, but they would not have been appreciated or exhibited as works of art. In the twentieth century, however, the collector's selective eye (and sense of humor) has transformed these humble tools into art objects worthy of contemplation.
Catalogue Description:
Mold, earthenware, circular shaped with dull yellow color glaze. A grape and leaf motif located at the bottom of ring. The center ring has a swirl pattern and the top ring is fluted. All leaves on bottom ring contain veining patterns. Bordering the outer rim is a scribed line running around the whole mold. Condition: Fine cracking in glaze. Chips in the foot.
---