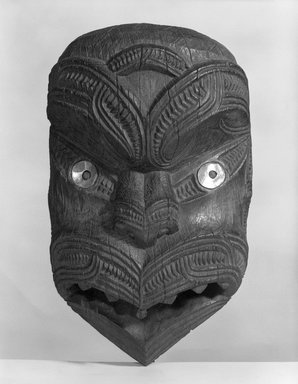 Gable Mask (Koruru)
The Maori believed certain structures—communal meeting houses, the houses of chiefs, and some food storage buildings—symbolized the body of an important ancestor, with the ridgepole indicating the backbone, the rafters the ribs, and the slanting facade boards the arms. Placed at the apex of the gable, the gable mask depicts the face of the honored ancestor.
Catalogue Description:
Carved wood mask in stable condition. Cracking overall with minor losses along the crack lines. Notable areas of old losses include: on bottom edge of proper left side of chin, two on proper right side of lower lip, above proper right tooth, on central tooth, and on center of the proper left brow. There are pencil marks and numerous mounting holes on the back of the mask. From catalogue card: "Carved wooden ornament for a house gable in the form of a human face with pieces of paua shell inserted in the eyes; richly carved. Ornament from Maori Chief's house (very old). Condition: good."
---