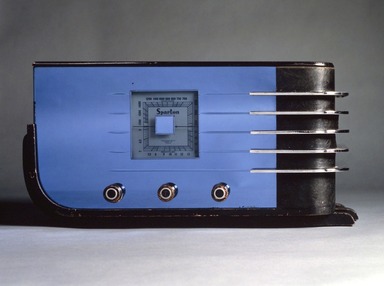 Sparton Table Radio
The first radio station, KDKA of Pittsburgh, was established in 1920, and by 1925 there were 571 stations in the country and more than 2.75 million radios had been sold. This radio exhibits the simple, bold, rounded forms of the streamlined style that characterized much American design of the 1930s and implies the idea of motion and aerodynamics even in stationary objects. Walter Dorwin Teague was originally trained as a graphic designer, but after a successful stint as a freelance designer for Eastman Kodak cameras, an example of which is on display here (72.18a), he became one of the most renowned industrial, or product, designers in this country.
Artist: Sparks-Withington Co. (Manufacturer)
Medium: Glass, metal, wood, rubber
Geographical Location: Jackson, Michigan, United States
Dates: ca. 1936
Dimensions: 8 3/4 x 17 1/2 x 8 3/8 in. (22.2 x 44.5 x 21.3 cm)
Markings: Paper label applied to tube base / transformer inside radio: "SPARTON / MADE IN U.S.A. / A-C RECEIVER MODEL 557 / TYPE 517 CHASSIS / LICENSED UNDER R.C.A. PATENTS / 115 VOLTS 60 CYCLES 60 WATTS / THE SPARKS-WITHINGTON CO. / JACKSON, MICHIGAN. U.S.A. / A-6"
Signature: no signature
Inscriptions: no inscriptions
Collection: Decorative Arts
Museum Location: Brooklyn Museum, BMA, 5Q12-LUCE, Unit 17, Shelf J
Accession Number: 83.158
Catalogue Description:
"Sparton" table radio in the shape of a rectangular box, covered in blue glass entirely on the top and partially on the front proper right side. Flat, black wood surface with three applied wood bands runs from middle of proper right side to opposite end of underside, raising box and serving as a base. The front with three wooden knobs with inlaid metal rings, a square dial face, five horizontal incisions into glass that continue as applied chromed bands to proper left side of front. The bands curve over the black wood surface that entirely covers the proper left side and terminate at the rear. The rear of the radio entirely open, revealing tubes, speaker, and other electrical parts. CONDITION: Good.
---