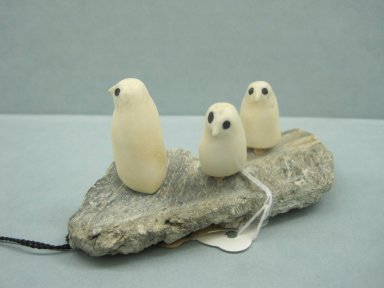 Scene with Three Abstract Birds
Catalogue Description:
Three abstract ivory birds attached to a base with wooden pegs. Birds' black circular eyes are painted on the surface. Light gray stone base is a natural form. Condition very good. Taped ticket to bottom says: '01038' 'Naujat Co.' 'GVK-0.' Eskimo tag says: 'Naujat' 'Repulse Bay' 'Artist: 7453.' Inuit word for Repulse Bay is now Naujaat.
---