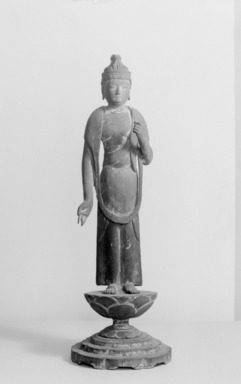 Small Figure of the Bodhisattva Sho Kannon (Avalokiteshvara)
This Sho Kannon image is from a hall that housed one thousand images at Kofuku-ji, a Buddhist temple in Nara, Japan. The deities were believe to provide salvation through the recitation of their names, following an important Buddhist belief in the efficacious power in multiplicity and salvation.
The image is dressed in monk's robes with only a suggestion of drapery folds. The idealized reflective expression and relaxed posture indicate the aesthetic taste evident in other works commissioned by the Fujiwara clan, who were tutelary patrons of Kofuku-ji. It is thought that images, including this Kannon, were removed from Kofuku-ji at the end nineteenth century, although no documentation supports this.
Medium: Wood, gesso, and paint
Geographical Location: Japan
Dates: ca. 1100
Period: Heian
Dimensions: 19 1/4 x 6 1/8 in. (48.9 x 15.5 cm)
Collection: Asian Art
Museum Location: Brooklyn Museum, BMA, 5H19, 6C
Accession Number: 05.106
Catalogue Description:
Small figure of the Bodhisattva (Bosatsu) Bodhisat-Sho Kwannon (Chinese Kwan Yin, Sanscrit Avalokitesvara), standing on a lotus pedestal. The left arm is partially raised the right is at one side, thrust forward a little. The figure wears a fillet around the base of his high chignon, sashes over the shoulders and across the chest, and a long skirt which reaches to the bare feet. The lotus pedestal rests on a three tiered base with scalloped edges. The figure and pedestal are carved separately, with the figure tenoned into the base. Both are carved of light brown, finely grained wood, probably kiri or paulownia. They were once covered with polychrome applied over a foundation of white gesso. This has now nearly all worn off, leaving only occasional traces of red, green and white gesso. Where exposed the wood has darkened. The long sashes hanging from the shoulders have been broken at the waist. The shoulders and arms, which are separate piece of wood, are cracked. The surface of the wood is worn in many places and is also scratched. This statue came from the Kofukuji Temple in Nara and was presumably one of a great number of similar ones sold about the turn of the century by the temple in order to pay for certain repairs. It was the first identified as such by Mr. Langdon Warner of the Fogg Museum at a Collector's meeting of the Society for Japanese Studies in the winter of 1935-1936.
---