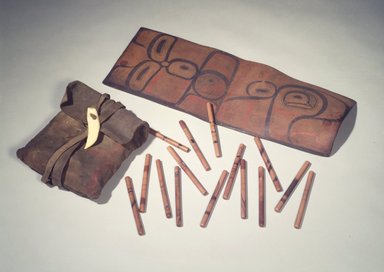 Bag with 65 Inlaid Gambling Sticks (QsEn)
Catalogue Description:
Collector Dr. Newcomb supplied Brooklyn Museum's curator, Dr. Stewart Culin with several gambling sets. There are few descriptions of how this gambling set would have been played so Dr. Newcomb's notes are quite valuable. "When bundle of sticks is indicated as holding the trump, the sticks are thrown down on the sloping exterior of the mat one by one, thus showing the content of his hand." These were reported to belong to Chief Shakes. Despite their perfection they were made with no machine tools. Nine of them have abalone shell inlaid whose game function is unknown, the rest are painted. The hide bag container for the sticks was made from an older object, perhaps a tunic or hide armor. The design is hard to make out but might be part of a face. According to Newcombe the painted mat has a design of a killer whale, identifiable by its blow hole and flukes. The panting style is similar to that of Heiltsuk artists, found near Kikatla. Gambling mat is 05.588.7249.
---