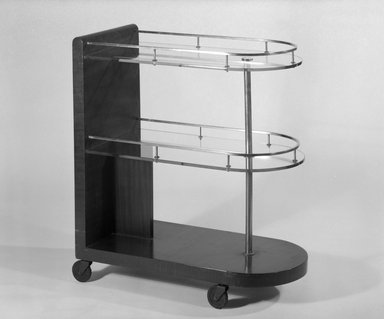 Serving Cart, Model 3321
Catalogue Description:
Multi-shelved serving cart (Model 3321) on four wheels. Overall, cart shaped like an "E" consisting of a thick wooden frame (the vertical member and bottom bar) and two glass shelves (the two upper bars of the "E"). The vertical member forms the side of the cart; it is rectangular with a rounded top edge. The base of the cart (bottom bar of the "E") and the two shelves (top and middle bars) are all the same size and all in the shape of a parabola; they are connected to the side along their flat ends. Placed perpendicularly to the frame is a small rectangular piece of wood attached to both the side and the base and supporting the middle shelf. A tubular steel shaft runs from the top shelf, through the middle shelf, to the base, connecting these three elements in their outer curved areas and providing additional support for the shelves. Each shelf has metal gallery around the edge consisting of thin rail with five vertical supporting members. The base of cart raised on four small rubber wheels. CONDITION: Wood areas with scratches and minor gouges throughout. Metal parts with surface wear throughout. Wheels in poor condition, heavily worn. Small chip to glass shelf.
---