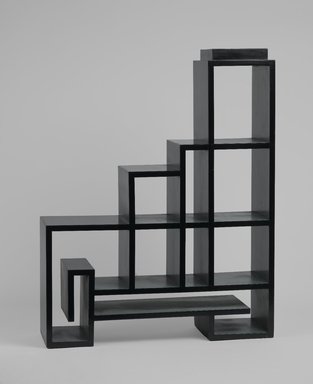 "Skyscraper" Step Table
The magazine Good Furniture commented in 1927 that Paul T. Frankl "has developed one feature that is absolutely unique. This is the now somewhat celebrated skyscraper type of furniture, which is as American and as New Yorkish as Fifth Avenue itself." Indeed, what could be more American and modern than furniture based on the uniquely American contribution to architecture—the skyscraper. Frankl was creating furniture of this type by 1925, thereby making him one of the first modern designers of American decorative arts.
Catalogue Description:
"Skyscraper" step table / bookcase, painted wood. Outside surfaces painted black, inside of shelves painted green. Stepped design irregularly descending from top (fitted with small pedestal). In elevation, a series of rectangles and cubes piled atop one another. Four metal glides attached to underside. CONDITION: Repainted with slight wear and paint droplets and some splotching to many surfaces. 2" scratch to edge of tallest side between middle and top of back.
---