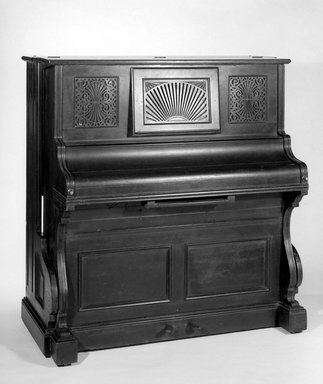 Convertible Bed in Form of Upright Piano
The piano was an important element of the parlor in the United States in the nineteenth and early twentieth centuries. It was a focus of family life and attested to the social aspirations of the owner. The consumer of this convertible piano-bed could, in a way, have his cake and eat it too--enjoying the propriety that a piano conferred on his parlor while gaining a reasonably comfortable sleeping unit for a large family living in limited space. The amusing idea of sleeping in a piano (or a fancy parlor cabinet, in the case of the parlor bedstead) must have been part of the furniture's appeal.
Catalogue Description:
Convertible bed in form of upright piano. When closed: Rectangular case with paneled sides; front has paneled lower section with 2 pedals and on each side of case, s-scrolled brackets support sham keyboard. Above keyboard is central music rest of framed, fan-shaped fretwork, flanked by two panels of fretwork of palmettes and scrollwork. Lid hinges open and front of "piano" hinges at base to open to bed with mesh and wire support for mattress. CONDITION: Finish discolored and "whitish" throughout. Proper right lower support for scroll bracket is loose. Minor cracks and separation in flanking fretwork panels on front.
---