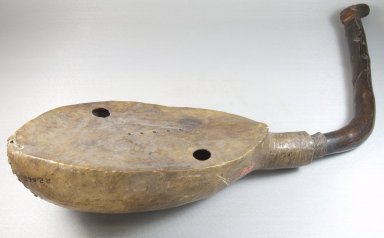 Five String Harp with Human Head (Kundi)
Catalogue Description:
Five stringed harp (Kundi). Oval shaped wooden resonator covered with hide. Two round openings are found on the anterior surface. Neck of harp is curved with a human head at top. Head is adorned with a hatch striped coiffure. Arms, breasts, and female genitals are also indicated on neck. The eyes consist of white glass beads, the ears are pierced, and the face is lighter in color than the headdress and the remainder of the neck. Red stamp applied to bottom of resonator. Condition: Large piece of hide detaching from back. Stitching coming apart. Pegs and strings are missing.
---