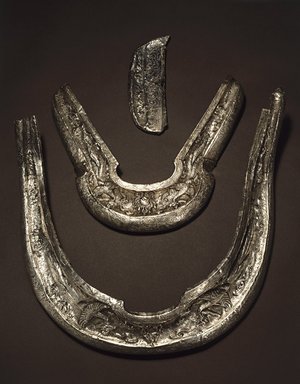 Saddle Ornaments
In the early tenth century, northern China came under the control of the Qidan Liao, a nomadic people of Central Asia. In 1005, after decades of warface, the Liado concluded a treaty with the Chinese Northen Song dynasty that stipulated diplomatic gifts to be presented to the Liao, including the type of saddle ornaments seen here. The Liao themselves had continued Tang dynasty styles in metalworking, including in engraved and repoussé silver, and sets of similiar ornametns have been excavated in Liao tombs. Among these are ornaments decorated with dragons chasing a flaming jewel meant for a nobleman, and others with phoenixes and auspicious designs, intended for a woman.
Medium: Silver, metalwork
Geographical Location: China
Dates: 10th century
Dynasty: Liao Dynasty
Period: Liao Dynasty
Dimensions: a: 11 1/2 x 13 1/2 x 1 1/2 in. (29.2 x 34.3 x 3.8 cm) b: 17 x 17 3/4 x 3 in. (43.2 x 45.1 x 7.6 cm) c: 7 3/4 x 2 3/4 x 1/2 in. (19.7 x 7 x 1.3 cm)
Collection: Asian Art
Museum Location: Brooklyn Museum, BMA, 5H2, TOP
Accession Number: 1990.72a-c
Catalogue Description:
Three components of a saddle, executed in hammered silver: a) Hammered silver bow-shaped section of a saddle, decorated with two phoenixes, chasing a flaming pearl, amidst ruyi clouds. The background decoration is composed of incised grass-leaves and punched dots. Condition: At upper left rim and on two phoenix reliefs there are repaired cracks and tiny holes. Minor repair work on the reverse. b) Hammered silver bow-shaped saddle piece, decorated with design of two phoenixes chasing a large flaming pearl amidst stylized clouds. On background are incised grass-leaves and punched dots. Condition: Cracks in serveral places, including the phoenix on the right, repaired on reverse. c) Hammered silver saddle piece, decorated with stylized clouds in relief and incised grass-leaves and punched dots. Condition: A broad crack at the right center and repairs on the reverse. Few Silver saddle ornaments of this period survive. One comparable example was excavated from a prince's tomb of the Liao dynasty (901-1125) in Inner Mongolia. China, in 1954. The inner Mongolian saddle is decorated witha pair of dragons chasing a flaming pearl, a symbol associated with kingship. The pair of phoenixes chasing a flaming pearl is a demale symbol, which may suggest that the saddle was being used by a woman of royal rank. At the beginning of their reign, the Liao produced a large number of gold and silver wares using Tang (618-906) and Song (960-1127) metalware and guilding techniques. The meticulous and refined style of the decoration on this saddle is striking. As scholars in the field have pointed out, the technique of metalworking represented by such precious objects is unique, not only i nthis specialized field of Chinese art, " but probably also in the entire Western world." (Fontein, Jan and Tung Wu, Unearthing China's Past. p. 185.) In the case of the saddle excavated rom various noble tombs, we see how traditional Chinese burial custom found great favor with Liao high officials. apparently, gold and silver vessels and ornaments played and important role in their burial ritual. The only other known example of Liao metalwork in America is a silver-gilt crown in the Museum of Fine Arts, Boston, although several examples of silver saddle ornaments with dragon decoration have been cited in recent Chinese published soruces (cf. Wen Wu, 1982, no.7). Condition: fair. The thin silver sheets are damaged throughout, with small losses, fissures, punctures and indetations. There are wrinkles, creases and fissures where the metal has been subjected to bending, crushing and previous attempst to resotre silver to original shape. Pieces have patching and corrosion. Pieces may only be displayed on an angle not to exceed 15 degrees.
---