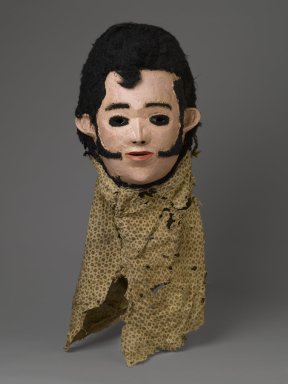 'Elvis' Mask for Nyau Society
Catalogue Description:
The object is a mask decorated to look like Elvis, carved from a single piece of wood with the eyes, mouth and nostrils pierced through; on the interior, tool marks are clearly visible. Synthetic hair has been attached around the open back of the head and defines the hair and sideburns as well as the eyes and eyebrows. A fairly thick layer of pink paint has been applied over the front of the mask and over the edges of the hair. The bottom edge and interior of the mask are not painted. Darker pink is present on selected areas of the cheeks, forehead and chin. The lips are painted red. Various textiles and burlap are attached around the edges with natural fiber twine through a series of holes in the wood and to each other with plastic-like thread. A strip of burlap is attached around the entire edge of the mask and a strip of knitted black material is applied over the burlap along the bottom edge. A beige textile with a light brown floral pattern is attached on top of the burlap and knitted fabric around the entire bottom edge and is stitched together in various places with the plastic thread. A strip of a red, blue and white checkered material is tied around the hair at the back of the head on the interior. Sections of the hair are also tied together with the plastic thread. Pieces of teal and purple yarn are also strung to the back of the head on the exterior. Patches of white material (paper?) with circular openings have been applied to inside behind eyes to create the whites of the eyes, which are visible from the front.
---