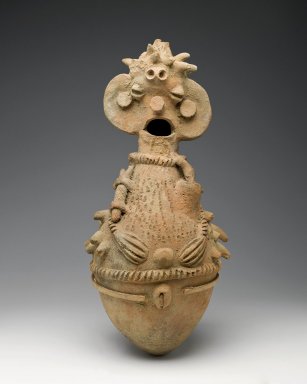 Vessel for Kwandalha Divination
Catalogue Description:
Hollow, egg-shaped terracotta vessel with a figurative head at the top of an elongated mouth. The body contains molded arms, a flute (?), belt, necklace, bumps (possibly indicative of an unattributed disease), navel and vulva added to the surface. The figure's arms rest on the belly of the vessel. The face has a large, ovoid mouth, two projecting half-circular ears, with round, flat ear plugs in each. A further ear plug is inserted above the mouth; another plug is missing from the lower lip. Eyes are formed in a molded, bisected coffee-bean shape. Two projecting nostrils sit above the eyes. The coiffure is composed of projecting tufts; several have been broken off. The surface has black firing marks, and is covered throughout by soil accretions. Condition: fair.
---