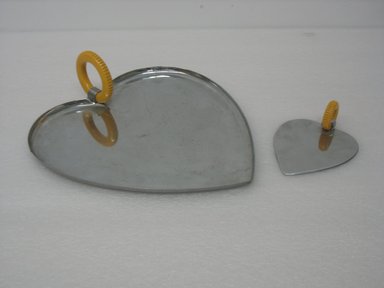 "Valentine Serving Set" Scoop, Model No. 90094
Catalogue Description:
Small, flat, heart shaped scoop. Polished, undecorated face with slightly beveled outer edge. At top center, small, cylindrical ring in yellow with evenly spaced horizontal incisions on its outer edge sits vertically and is visually joined to body by semi cylindrical applied four banded cuff. Server back in matte finish with pair of small circular indentations at top and screw fastener for ring. Condition: Very good, normal wear.
---