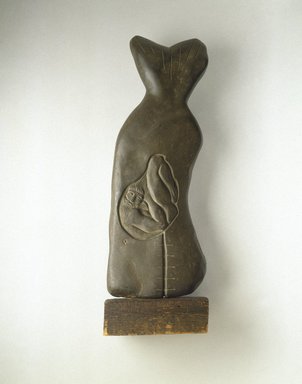 Jonah and the Whale: Rebirth Motif
Often there is an occult attraction in the very shape of a rock as sheer abstract form. It fascinates with a queer atavistic nostalgia, as either a remote memory or a stirring impulse from the depth of the unconscious.

My aim is to produce a sculpture feeling as direct and swift as drawing, a sculpture with such ease, freedom and simplicity that it hardly feels carved, but rather to have always been there . . .
-John Flannagan
Catalogue Description:
Statue of flattened, upright whale (face down, tail up) with contorted figure of bearded man in its stomach carved in relief on both sides; statue attached to rough wood block base. Condition: Good.
---