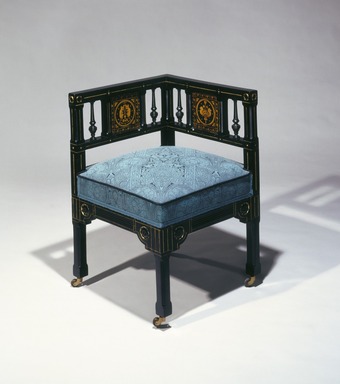 Corner Chair (Modern Gothic style)
Kimbel & Cabus was on of the most important decorating and cabinetmaking firms in New York after the Civil War. This object represents the firm's shift from a design phase of historical revivalism to a protomodern abstract aesthetic.
The profiles of the various members of the chair have been simplified and the entire chair has been ebonized, in response to the influence of the Aesthetic Movement of the 1870s and interest in Asian art. The fanciful motifs of the "paper tiles" on the back of the corner chair were inspired by medieval grotesques and Japanese sources, and were an amusing and cost-saving substitute for marquetry (inlaid) decoration of inset ceramic tiles.
Catalogue Description:
Corner chair; ebonized wood and gilt-incised decoration and modern upholstery. Square seat with blue-green upholstery and black cord on square legs with chamfered edges raised on brass and wood casters. Seat rail on each of four sides with gilt incised rosettes centered a horizontally reeded panel. L-shaped back with square stiles chamfered on upper portion. Square profile L-shaped crest rail. Each of two back sections with turned baluster-shaped spindles flanking a recessed square panel with printed black and gold symmetrical heraldic designs. Proper right panel with paired mice; proper left with paired birds; images reversed on exterior back. Condition: Very good; re-ebonized and gilt-incised decoration repainted. Conservation report on file.
---