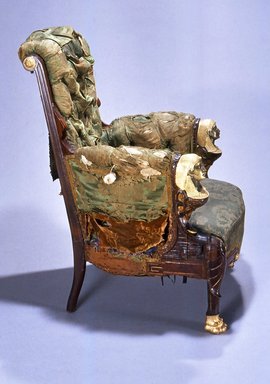 Armchair (Egyptian Revival style)
The form of this easy chair, or bergère in French, was introduced in France in about 1725 and has remained popular. To preserve the chair as a rare original upholstery document, later layers of upholstery and padding (see illustration) were removed to uncover the original upholstery on the back and arms. The original green silk damask upholstery was cleaned in place. A modern, unfigured, green silk was used to cover the seat and front of the chair, and was set behind the original damask to compensate for losses on the back and arms. All the trim on the chair is modern, but it approximates what was originally used.
Catalogue Description:
Egyptian Revival style armchair; rosewood, burl walnut, gilt and patinated metal mounts, and original upholstery. Slightly flared back legs. Straight back stiles cant backward slightly, terminates with scroll at crest with side mounted gilt rosette mount at scroll. Outer side of back stile with narrow gilt incised vertical lines. Front of back stiles with raised central burl panels outlined in gilt above carved stylized acanthus leaf. Back of seat with rolled crest and rolled arms all deeply tufted with remnants of original dark green silk damask cover below later lighter green damask. Front arms with large gilt and patinated metal Egyptian heads with broad flat necklace above carved and gilt stylized floral motif. Stylized carved and gilt floral motif at knee. Short straight legs with gilt enamel paw sabot. CONDITION: Largely original condition; numerous tack holes at border of wood frame. Separation of wood frame below gilt Egyptian head mounts on both sides. Surface of wood frame dirty.
---