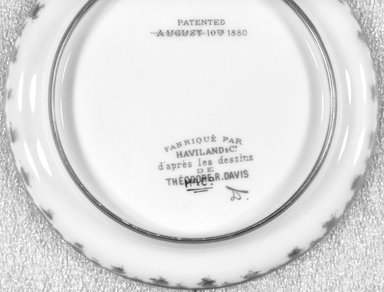 Cup and Saucer
Theodore R. Davis was a Brooklyn artist known mainly for his lively engravings for Harper's Weekly. In 1880 he supplied designs to Haviland & Company for the extensive White House dinner service for President Rutherford B. Hayes, including this cup and saucer. The decoration on the service is for the most part naturalistically rendered scenes of animals. The coffee cups and dessert plates, however, are far more inventive and up-to-date stylistically in their amusing adaptation of a Japanese-inspired bamboo design.
Artist: Theodore R. Davis (Designer)
Medium: Porcelain
Geographical Location: Limoges, France
Dates: Patented May 10, 1880
Dimensions: (a) Cup: 2 1/2 x 2 7/8 x 2 1/8 in. (6.4 x 7.3 x 5.4 cm) (b) Saucer: 5/8 x 4 3/4 x 4 3/4 in. (1.6 x 12.1 x 12.1 cm)
Markings: Four printed marks on bottom of both cup and saucer: (1) In blue, "PATENTED / AUGUST 10th 1880"; (2) in orange, "FABRIQUE PAR / HAVILAND & CO. / d'apres les dessins / DE / THEDORE. R. DAVIS."; (3) in green, "H & Co."; (4) in orange, "TD" designer's initials in script.
Signature:
Collection: Decorative Arts
Museum Location: Brooklyn Museum, BMA, 6H1, 4F
Accession Number: 1994.106a-b
Catalogue Description:
Cup and saucer, porcelain. (a) Cup with white body and ivory exterior glaze. Cylindrical, with small bulge towards bottom. Applied decoration of bamboo stalk wraps halfway around the cup, with top leaf forming the handle. Stalk is green, with naturalistic modeling and gold highlights. Three irregular gold stripes, from thin to thickest, encircle the cup from bulge to base. (b) Saucer, with matching body, glaze, and applied decoration. Bamboo stalk forms inner ridge to hold cup. On saucer bottom, foot is painted gold. Outer rim has same irregular gold stripes as cup base. Condition: Excellent, gold slightly worn on saucer rim.
---