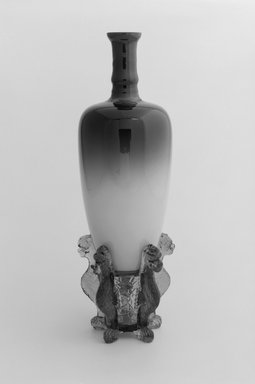 Morgan Vase and Stand
Catalogue Description:
Colored glass vase (a) and stand (b). (a) Downward tapering cylindrical body with a high shoulder supporting a narrow tall neck pinched near base with a flared rim. Cased glass with opaque white inner layer and outer layer varies from dark red at neck and shoulder modulating to pale yellow on lower half of body. (b) Cup shape with flared sides with five molded beasts with pronounced clawed feet disposed symmetrically around cup shape all in amber glass. Condition: Two firing flaws on opposite side of upper body below neck; hairline 1/2" crack from rim.
---