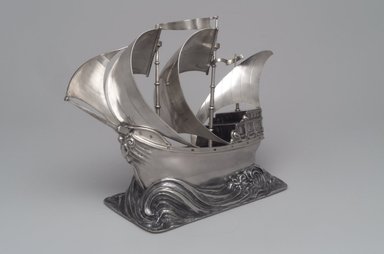 Yachting Trophy
Works with a connection to Brooklyn are of particular interest to curators when they select objects for the collection. This trophy in the shape of a Spanish caravel (an early sailing ship) was presented by the Brooklyn Yacht Club to the winner of a regatta between New York and Marblehead, Massachusetts, in 1904 and follows in a long tradition of silver yachting trophies. It was made in the Brooklyn factory of George Shiebler & Company, and its design is based on a monument to Robert Louis Stevenson designed by Willis Polk in San Francisco. Made just after the turn of the century, the trophy looks backward to the elaborate revival designs of the 1800s rather than forward to the modernist works that surround it on the shelf.
Catalogue Description:
Silver trophy in the form of a Spanish caravel. The ship sits on a rectangular, cast platform realistically ornamented with swirling waves, retaining original oxidation in chased detail. The ship sits buffeted slightly to the right. It is a three-masted Spanish caravel with masts fully set with sails and two pennants. The figurehead is a female figure, reportedly Minerva. At the stern of the ship is a tiered cabin ornamented with scrolls and swags of garlands. CONDITION: One of the upper pennants replaced by vendor based on photographs. Some nicks to edge of rear sail. Previously on ebony base, now lacking.
---