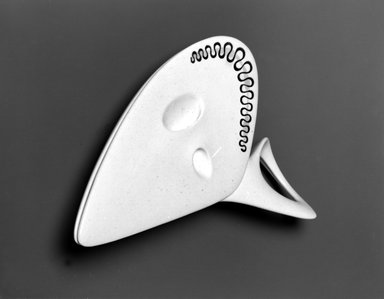 Covered Dish, Poppytrail Line, Freeform Shape, California Aztec Pattern
Catalogue Description:
Glazed earthenware, white with gray flecks, thick-walled covered dish (a) and lid (b). Dish is a biomorphic, oval shape with one end pulled to a point and a molded rectangular handle with oval cut-out attached at rim on long side. Transfer-printed decorative band along inside edge opposite handle consisting of dark gray ribbon pattern superimposed on light gray band of elongated oval shapes. Conforming flat lid has two molded indented finger grips in center and same decorative band along side. When lid is turned so that the decoration is at top, lid resembles an anthropomorphized head. Condition: Very good.
---