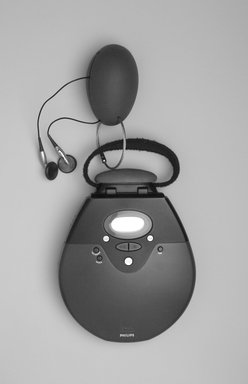 CD Player, "Model MG9218/17"
Artist: Michael Graves (Designer)
Medium: ABS plastic, metal
Geographical Locations:
Dates: Designed 1999; Manufactured 2000-2001
Dimensions: (a) CD player: 1 5/8 x 5 x 6 3/8 in. (4.1 x 12.7 x 16.2 cm) (b) Egg pouch (excluding ring): 3 x 1 7/8 x 1 7/8 in. (7.6 x 4.8 x 4.8 cm) (c) Ear piece: length 42 in. (106.7 cm)
Markings: (a) On top of CD player: printed "[facsimile signature of Michael Graves in red] / PHILIPS [in silver]"; on underside, affixed black label printed in white, "PHILIPS CONSUMER ELECTRONICS COMPANY / KNOXVILLE, TENNESSEE 37914-1810, USA / PHILIPS [with logo] / [additional product information]" (b) Impressed at top of egg pouch: "[facsimile signature of Michael Graves]" (c) On inset metal oval in each earpiece, printed in black: "PHILIPS" (d) On back of rectangular adapter plug, printed in white: "PHILIPS"
Collection: Decorative Arts
Museum Location: Brooklyn Museum, BMA, 5Q12-LUCE, Unit 18, Shelf N
Accession Number: 2004.36a-d
Catalogue Description:
CD player and accessories. (a) CD player: molded plastic, thin, flat, truncated ovoid shape, hinged lid at top. Upper third of lid is black, balance is dark gray. Oval display window and programming buttons (slate blue, yellow, silver, dark gray) set into black section. Base is black and dark gray, with ovoid belt clip of yellow plastic. Silver plastic release button at front edge and control knobs along side. At top of player, slate blue ovoid handle with lengthwise black stripe and black nylon hand-holder strap. (b) Egg pouch: slate blue soft plastic egg-shaped pouch with slit down center for holding ear piece; ring of twisted metal attached through top of pouch. (c) Ear piece: black plastic wrapped cord with thin metal electrical plug at one end; cord forks into two branches that terminate in silver plastic ear phones. (d) Adapter plug. Black AC adapter with two pronged wall plug, long cord and thin plug for connection to the CD player. CONDITION: Excellent.
---