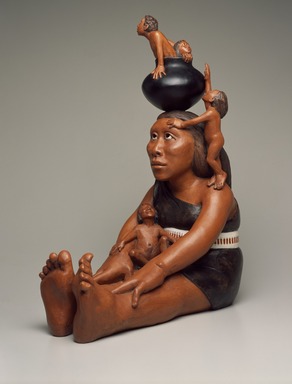 Making Babies for Indian Market
Roxanne Swentzell's work often plays on the interaction between native and non-native worlds. Here she uses clay, an ancient artistic medium, to depict a traditional Pueblo woman, whose face is much like Swentzell's own. The woman in the sculpture looks up at the Santa Clara black pot balanced on her head, from which babies are emerging, But there is a contemporary ironic twist to what the woman is doing: is she "birthing" pots to be sold at an Indian market, or is it the baby Indians themselves that the consumer will want to buy? The work challenges the viewer to acknowledge the treatment of Native Americans as a stereotype and commodity in representations by non-natives in popular culture and advertising.
Catalogue Description:
The sculpture is a contemporary version of the traditional storyteller figure with a humorous twist. A Pueblo woman sits with her legs and arms outstretched in front of her. Feet are bare; arms and hands rest on legs below the knees. She wears a Pueblo-style dress with one shoulder bare. The dress is black with a white waistband decorated in red-ochre vertical dashes. The figure's face resembles Roxanne Swentzell, the artist responsible for the sculpture. Her eyes look up towards the Santa Clara black pot balanced on her head. Two babies emerge from the pot. One is shown half way out, the other with its head poking up. A third baby stands on the woman's shoulder and is reaching towards one of the babies coming from the pot. A fourth baby sits on the Pueblo woman's lap with an expression of deep contentment. The entire surface of the work is highly polished and is in excellent condition.
---