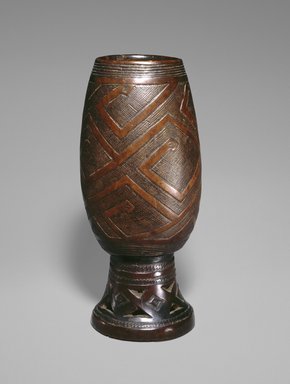 Palm Wine Cup (Mbwoongntey)
For centuries, among the Kuba, indications of personal status have been an important element in crafted objects. Even ordinary utilitarian items such as drinking cups for palm wine may indicate wealth and status through elegant carvings and decorations. Frequently, cups intended for use by rulers are carved in the form human head with a distinctive hairstyle associated only with royalty. Far more rare are cups carved with full figures.
Catalogue Description:
Barrel-shaped wooden goblet with pedestal. Object incised with angular snake symbols on a crosshatched background. Base has bands of zigzags and diamond shapes. Patina is dark brown. Condition: good, except for a long vertical crack in the body that has been repaired with three metal clamps.
---