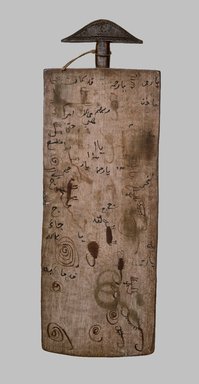 Qur'anic Writing Board
Islam was brought to northern and western Africa by traders from the Middle East as early as the eighth century. The study of Arabic, the language of the Koran, is an integral part of religious training. Students use wooden writing boards like chalkboards to practice their penmanship and to help them memorize Koranic verses. Boards are also used by marabouts (Muslim religious leaders) to write specific verses in response to supplicants' problems or requests. The ink is then washed off the board and given to the supplicant to drink. This practice illustrates the blending of Islam with earlier, animistic religious practices.
Catalogue Description:
Rectangular instructional tablet with painted designs in brown and black Arabic script. A passage from the Qur'an (chapter 97) appears on one side (see catalogue card for quotation) written in a square near the top. It is bound by a diamond-shaped pattern as well as pyramidal and flag like forms. Lower half has stylized figures and scorpions. Label on this side says, "Instructional tablet for school. Omdurman. 17". On other side script (single words) is interspersed with stylized human and animal forms as well as circular snail-like motifs. Handle has incised zigzag and circle designs. There is a cord tied around the base of the handle. Condition is good. Evidence of wear throughout, including some stains. Handle chipped and edges worn. String fragile; has been reconnected.
---