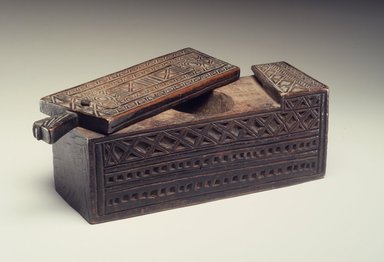 Box with Sliding Lid
Catalogue Description:
Wooden rectangular box with handle attached to sliding lid that swivels sideways on a recessed top revealing a sunken hemispheric hole. Outer surface of box is decorated with geometric patterns. Object is stable. A section of the handle has broken off and is missing. The box has small nicks and chips along edges and corners. Its exterior surfaces have a polished patina. Its interior surfaces are neither polished nor decorated.
---