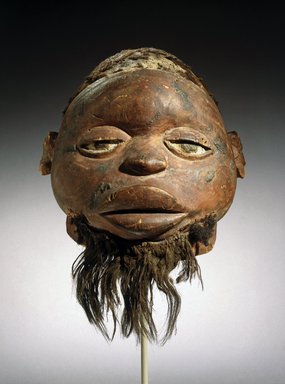 Lipiko Mask
Lipiko masks are used at boys' and girls' initiation ceremonies to represent spirits (midimu). They are noteworthy for their realism, each mask depicting details of a particular facial type and hairstyle. Lipiko masks are often caricatures of members of neighboring groups, religious leaders, and colonial officials.
Catalogue Description:
Wooden mask, helmet type of heroic size. Soft wood colored a brick-red shade. Human hair (probably) fixed to the top head, beard attached to chin. Protruding lips, flattened nose, rounded forehead. Ears carved into fan-like shapes.
---