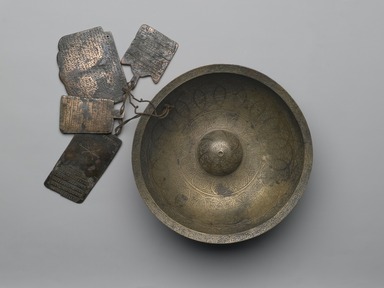 Chihil Kilid (Forty Keys) Divination Bowl with Inscriptions, Zodiac Signs, and Four Plaquettes
Catalogue Description:
A brass divination bowl with a raised semi-spherical center. There are tiny inscriptions engraved on the entire surface, both interior and exterior of the bowl. On the interior, the inscriptions in naskhi script appear in round, overlapping medallions. On the exterior, inscriptions also appear in round medallions; however, within a border below the rim, the inscriptions alternate with depictions of the zodiac signs. Inscriptions also cover the surface of the everted rim.
---